Greetings, friends and family! I thought 6 months later was a good point in time to throw another blog up here. And one that is relevant to the lives of us all.
People often ask me what kinds of food I eat out here in the Land of Smiles. (They don't ever call it that when they ask, but you know.) So I decided to compile a list of some of my favorites + some of what probably should be my favorites because of how popular/traditional they are.
Let it be known that I am neither a food connoisseur nor an aspiring food blogger, so when I use words like
limey
and
spicy
and
yummy
and can't really think of anything else to say... suffice it to say that the food is delicious, and that's why it's on this list. And for the items with little or no description at all: use your imagination, or Google :-). (Mark Wiens at migrationology.com
has a great list of 100 Thai dishes to eat in Bangkok - many of the dishes I have here are on his list as well!)
The format for the name of each food is as follows:
Thai script name
Phonetic pronunciation
English description
Try some of these out for yourself, and let me know what you think!
Salads:
ส้มตำ
Som tam
Green papaya salad
This dish comes in many different varieties, but I prefer it without the seafood. It is fresh, limey, and can be very spicy. Eat with sticky rice!
ยำวุ้นเส้น
Yam woon sen
Glass noodles salad
Another fresh-tasting dish that won't leave you feeling heavy. A great lime flavor, and also spicy.



Veggies:


ผักบุ้งไฟแดง
Phat phak bung fai daeng
Stir-fried morning glory
Soups & Curries:
ก๋วยเตี๋ยว
Guay tiao
Noodle soup
One of my favorites, and a dish that is extremely versatile as far as the type of noodle and meat you can order.
For extra yumminess (and a tangy & spicy flavor), ask them to put in tom yum (
ต้มยำ,
hot and sour flavor)
and kiao (
เกี๊ยว,
dumplings).
แกงเขียวหวาน
Gaeng kheow wan
Green curry
แกงส้มชะอม
Gaeng som cha om
Sour orange curry (with egg & veggie omelette)
I normally have them put in shrimp, but you can choose any meat.
ต้มยำ
Tom yam
Hot and sour soup
One of my very favorite dishes. Spicy and shrimp are standard, but you can ask them to tone down the spicy level, and chicken and pork are also delicious.
ต้มข่าไก่
Tom kha gai
Coconut chicken soup
Another favorite. Very creamy and not spicy. Eat with rice.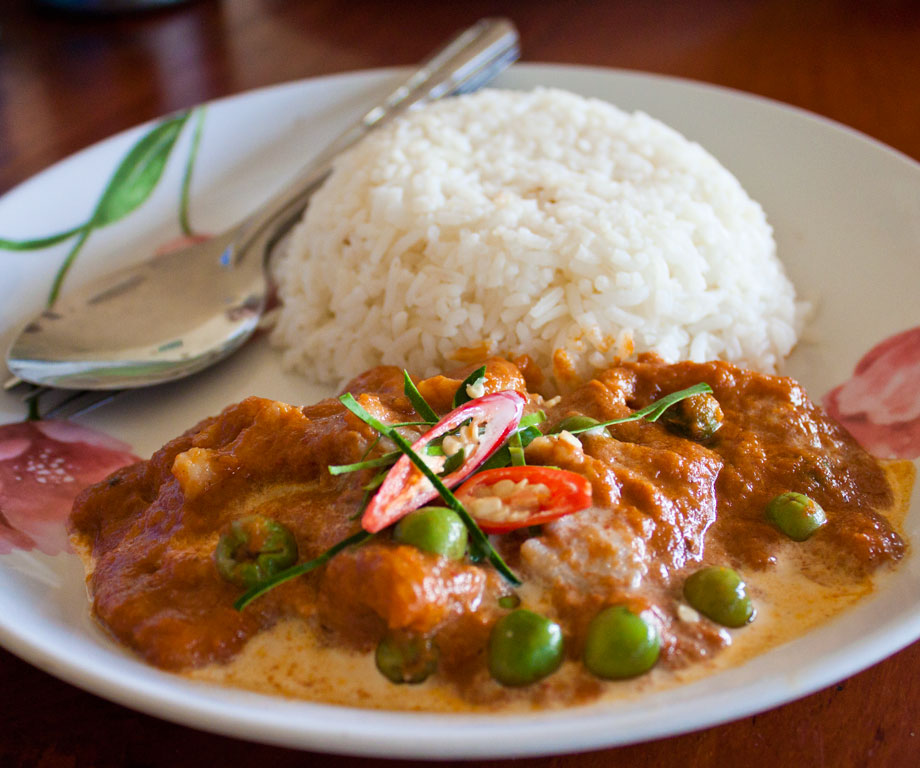 แกงพะแนง
Gaeng panang
Panang curry
Noodle Dishes:
สุกี้แห้ง
Suki haeng
Stir-fried noodles, veggies, and meat in a spicy, sour sauce. The dry version of suki nam, which is a soup adapted from Japanese hot pot.
ผัดไทย
Phat Thai
The sweet, peanuty noodle dish everyone loves.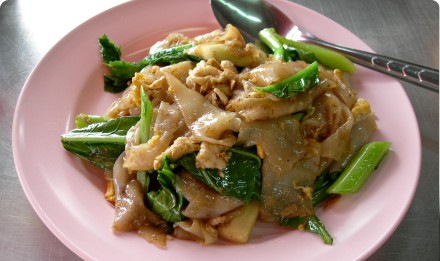 ผัดซีอิ้ว
Phat see ew
Soy sauce fried noodles
Basically, just like it sounds. Not a spicy dish on its own, but it tastes great with fish sauce and pepper.
Gap Khao (Food to Eat with Rice) Dishes:
ลาบหมู, ลาบไก่
Laab moo/gai
Ground pork/chicken salad
This is an Isaan dish with a strong lime flavor. Eat with sticky rice!
ข้าวมันไก่
Khao man gai
Boiled chicken and rice
A pretty popular street food. It comes with a yummy spicy sauce on the side, as well as a bowl of soup.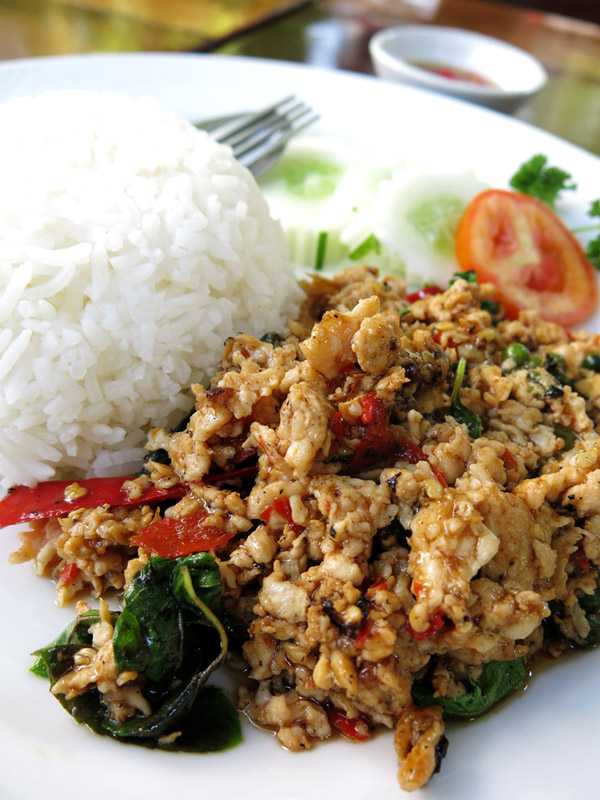 พัดกระเพราหมู, ผัดกระเพราไก่
Phat gaprow moo/gai
Basil pork/chicken
I've heard it said that this is the dish Thais order when they don't really know what they want. And this "default dish" is certainly worthy of that standing. Spicy, and really good with fish sauce and a fried egg on top!
ไข่เจียว
Khai jiao
Omelette
The "safe for the whole family" dish. This normally comes either plain or with ground pork. Dip in the creamy spicy sauce if you want, and eat with rice.
Rice:
ข้าวผัด
Khao phat
Fried rice
ข้าวผัดต้มยำ
Khao phat tom yum
Fried rice with tom yum
All the greatness of Thai-style fried rice and tom yum soup combined into one.